Process Chemical Equipment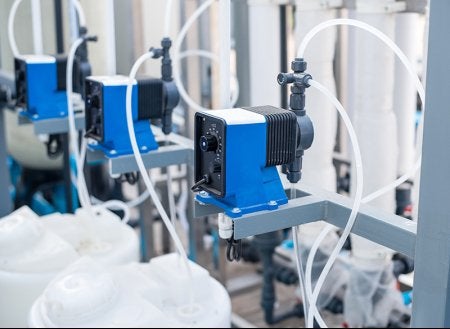 EnviroServe Chemicals is committed to provide our customers with the best most dependable chemical feed equipment in the industry. Customers should have limited contact with chemicals hazardous or not, therefore the use of equipment. Each process will be evaluated by our trained sales/technical staff to recommend the most efficient, reliable, and user friendly equipment to meet your chemical addition needs.
EnviroServe will take into consideration the complexity of your operation and the critical operating parameters to recommend the proper equipment.
EnviroServe's Custom Feed Equipment
Feed Systems – also known as "Chemical Feed Controllers" (CFC)
Simple chemical feed system that can be configured to charge, dose, and/or feed chemicals to your processing bath.
Reduce fluctuation in bath concentration
Reduce and/or eliminate worker exposure to chemicals
Consistent addition in amount of chemical no approximation
Other Feed Equipment Available
Chemical Control Equipment – constant monitoring and addition (as needed) of chemical
Concentration Control
Conductivity control maintains concentration of chemical in processing bath.
Maintains tight concentration control.
Only adds chemical when needed.
pH Control
Maintain tight control of pH in many pretreatment baths.
Chemical resistant differential probes used.